Purple haze - ice sculpture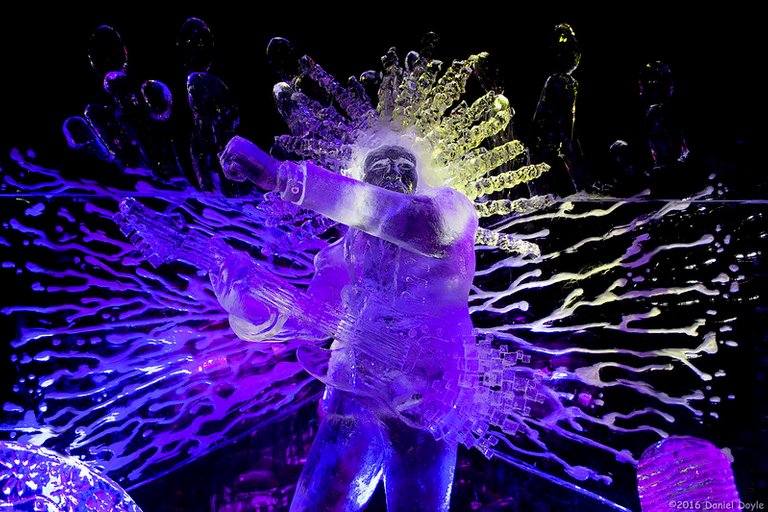 You may be surprised to hear but as an artist, my experience of drug use is relatively small. I have been known to enjoy a joint or two but psychedelics are a bit too exotic for my blood. I have no interest in taking drugs that were cooked up in a dingy basement somewhere and smuggled into the country up someone's bum. I prefer a natural high.
The furthest I have ventured into the land of mind-altering substances was smoking some Mexican mint/ Lady salvia through a bong. It's a natural shamanistic drug and wow what an experience. I tried it twice and the trip lasts around 10 minutes with no apparent ill effects or addictive qualities, just a tingling feeling which cleared after around 30 minutes. My experience was that the last thing I looked at before I are going under its spell was brought with me and was used as a seed with which to create a magical world. The first time it was Smarties and the second, a beer label. I won't try and explain what I saw or felt because like a dream it is something which is personal and not easily shared. Just know, it was a very interesting, full mind and body experience but not something I instantly got hooked on and wanted to do again. It was pleasant and a nice escape for the minutes I was there. That's about it. Don't worry, this was all done for research purposes. So, in the future when the world has gone full woke and someone with blue hair finds this post please don't call for my burning at the stake for my actions of the past.
Everything in moderation
A good joint can be a nice thing to relax and get the creative juices a flowin'. But some of the stuff that is out there nowadays can be way too strong and give you a bad case of paranoia. I find with drugs that it is alright to try them when you are feeling good as they will enhance the feeling but if you take them when you are already down they can amplify that feeling also. Many creative people I've met enjoy a joint as it can relieve creative blockages. I've had some brilliantly creative moments on wacky tobacco. Everything seemed so vivid and interesting, I was the king of my world. But when the haze cleared it was all a dream and the ideas seemed just silly with a clear head. I have not partaken for a while now and am glad I never got addicted either physically or mentally but that is a sad hole that many creative people fall down.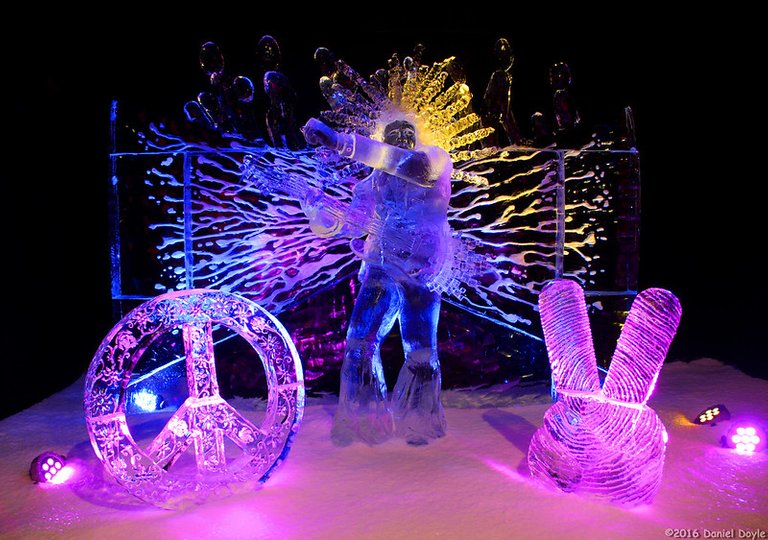 The Jimi Hendrix Experience
Jimi Hendrix was one such poor soul and what a loss to music that was. Although his career was cut so short by drugs he is regarded as one of the most influential guitarists in the history of popular music.
As an instrument, I have never really been a big fan of the electric guitar well, that is apart from how Hendrix wielded it. It was like he discovered the true way it was meant to be played. Celebrating its imperfections and making it sing in its own true voice. He mastered all the feedback and interference that others gave a surly, disapproving glance at the sound desk operator for. Hendrix formed it into a vocabulary that was truly his own.
As a child, Jimi would wander the school halls with a broom in his hand which was like his blankey. He came from a dysfunctional family and they had neither the money nor the want to get him a guitar which the broom was a stand-in for. At the Age of 15 he finally got his first acoustic and the rest is history. I won't recount it all. although, here are a few highlights. He played in a few bands and did a bit of crime. After his second time of being caught in a stolen car, he was given the choice of prison or the army. Having chosen the army he did his basic training he got assigned to the 101st Airbourne, After finishing his paratrooper training his platoon Sargent was quoted as saying.
He has no interest whatsoever in the Army ... It is my opinion that Private Hendrix will never come up to the standards required of a soldier. I feel that the military service will benefit if he is discharged as soon as possible.
So he was honourable discharged and could pick up his favourite weapon again. I'm happy for him and for us that he got to spend the rest of his life being a musician and not fighting the empire's wars.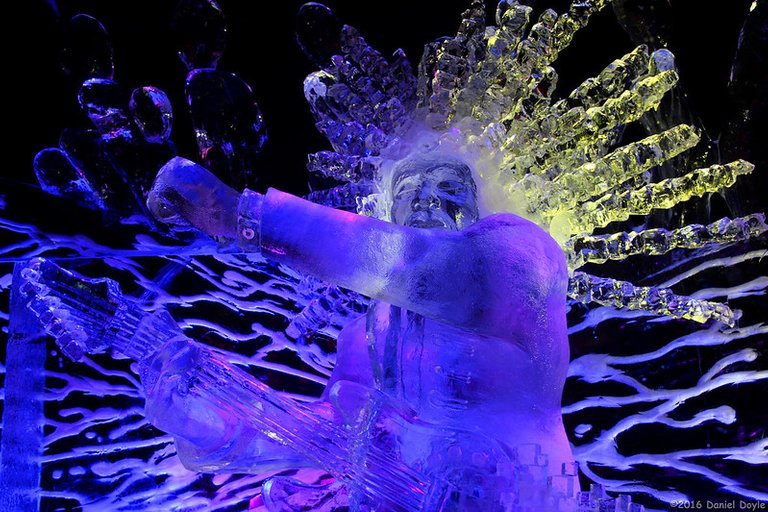 I was very happy to be given the job of ephemerally immortalising him in ice at The 2016 ice sculpture Exhibition in Amsterdam, The Netherlands. The Theme was music and it was nice to see him get his own scene which I had the privilege of immersing myself in 10 days, Getting steeped in his story and being given the freedom to jam with him.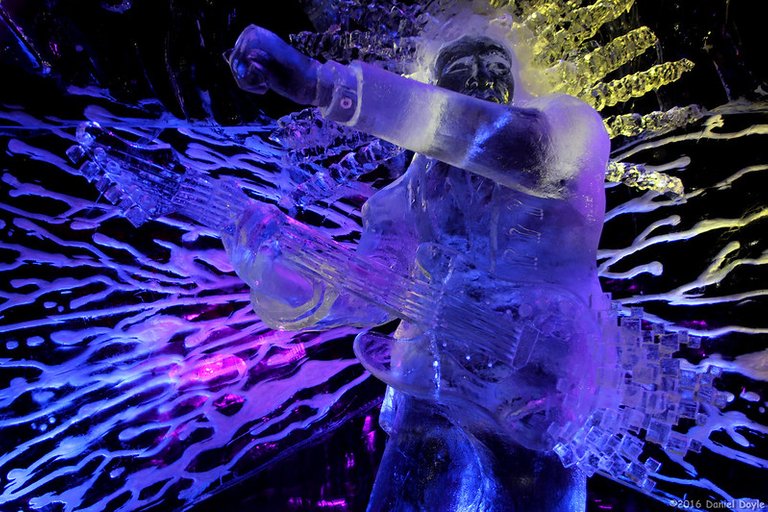 It was based on an iconic poster by artist Martin Sharp with my own little twists. The sculpture itself doesn't need much description as it was quite illustrative of the energy he brought to music with some flower power icons thrown in for good measure.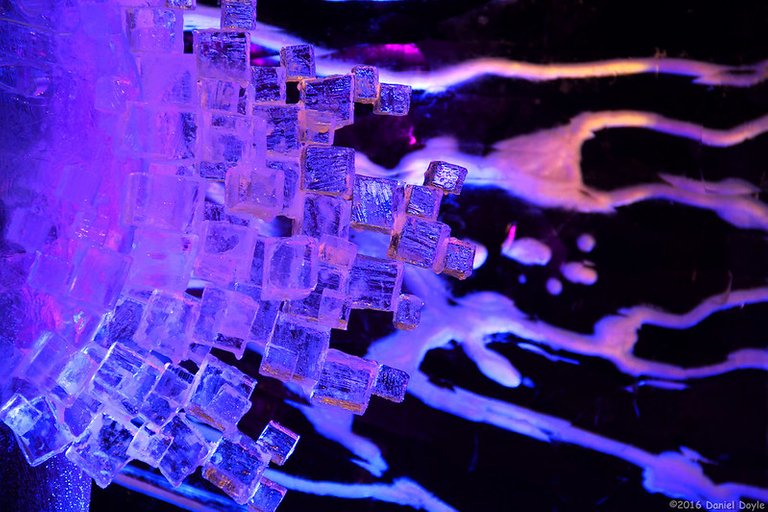 Details aren't details. They make the product.
I really goofed off on the details making hundreds of little elements which I used to adorn the sculpture.
I was continually trying to find a balance between what was enough and what was too much to add. With ice, this can be the main failing of a sculpture. less can often work best but I really wanted to give him his due. The large ice-wall in the back was carved from the other side in negative and filled with chainsaw snow to make it hover in the air.
The lighting took a bit of experimenting to get just right. Luckily I was able to work with the lighting guys to get it to where I thought looked best.
I think it created a nice balance and helped the different elements stand out. Knowing where to stop is something I am still learning.
Unfortunately for Jimi Hendrix he went too far with drugs and died of an overdose of sleeping tablets at the age of 27 which interestingly is an age that many great musicians seem to have a problem overcoming.
I liked this sculpture and the Kitch quality of ice and fancy lighting really added to it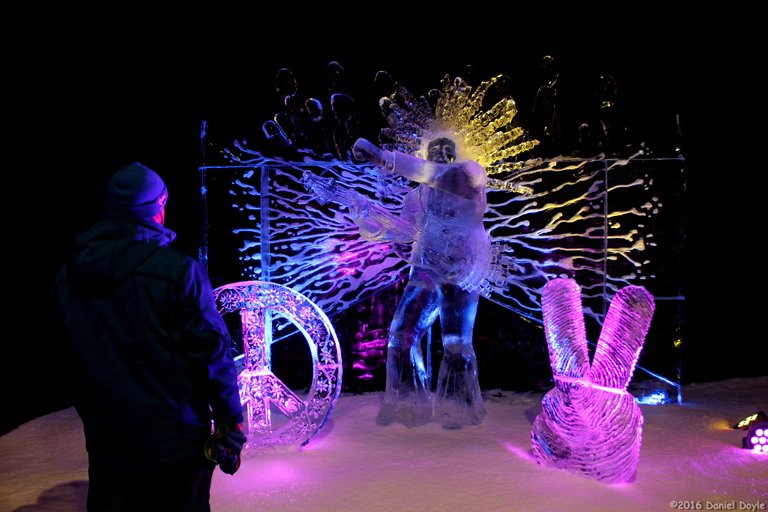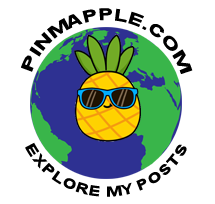 ---
Ps
Thanks for reading. I use PeakD to document my work as an ephemeral Sculptor of sand, snow and ice, amongst other things. This will hopefully give it a new life on the Hive Blockchain. Below you will find some of my recent posts.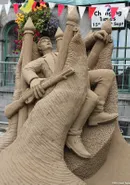 Falling on the flag - sand sculpture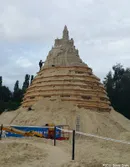 Record attempt Oberhausen - sand sculpture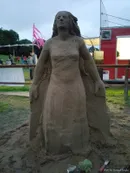 Cog in the machine - sand sculpture
I hope you'll join me again soon
@ammonite
If you would like to support me
Bitcoin: bc1qp4lfg0ttz66nesgff8fd5unglg9y0l2jy53j36
Ethereum: 0x6abaE039b9BDFB67495A0588cb90F9EAF5f7556c
Eos: ammonitearts
I am also starting to create NFTs of my sculptures and welcome you to my gallery where you can own a bit of ephemeral sculpture history.
---
---