Late Season Cannabis Grow, Getting Close To Harvest
Hello, hivers and cannabis enthusiasts!
It's been quite a while since my last cannabis related post. To make a long story short, I have 2 cannabis plants growing in my greenhouse. Both plants came from Master Hemp #2 seeds. These plants have insignificant amounts of THC, but are supposed to produce around 15% CBD. My plan is to make tincture from them once the harvest is done and dried.
Both plants are about 6 feet tall and growing up against the roof of the greenhouse. I had to cut the tops off both plants back in early August because they were getting too tall for the space they were in. Both plants have developed lots of buds, although 1 plant started before the other. Neither plant is showing signs of mature buds yet, although the hairs on the buds of the one plant are turning red now.
I recently took a few pictures of the plants that I'd like to show you. Both of these pictures are from September 19.
This is the plant that started developing buds first. It has some strong bud development now.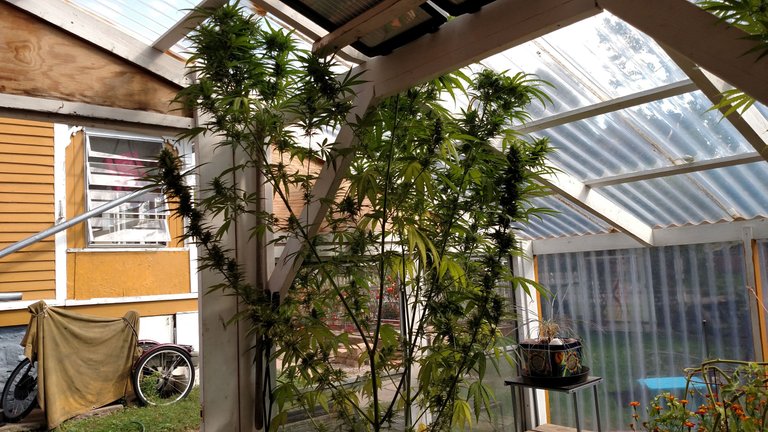 This is the plant that started developing buds later.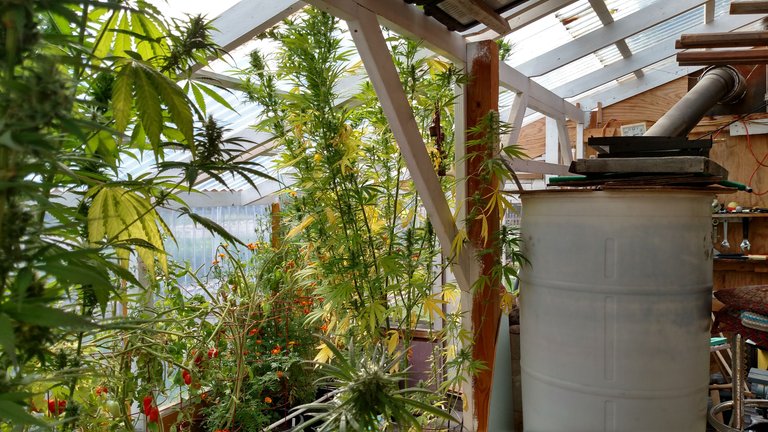 As you can see, both plants have been shedding their big leaves. This may be a reaction to having less length of daylight, or it may be a reaction to drying out in the hot greenhouse, or perhaps both. I have to water these plants every day to keep them from wilting too much. I'm pretty sure that a 15 gallon pot is just too small for plants this big. Next year, I'm going to use bigger pots for the plants. I'll need to change a couple things in the greenhouse to fit bigger pots in, but I was planning on those changes anyway.
Here's a picture that I took yesterday. There's not much of a change from a week ago except that more of the big leaves have turned yellow and fallen off. I've been putting the fallen leaves, and the ones I pick off the plants in the pots to use as a bit of mulch to try to slow down the evaporation from the dirt. I can't say if it works, but it certainly doesn't hurt.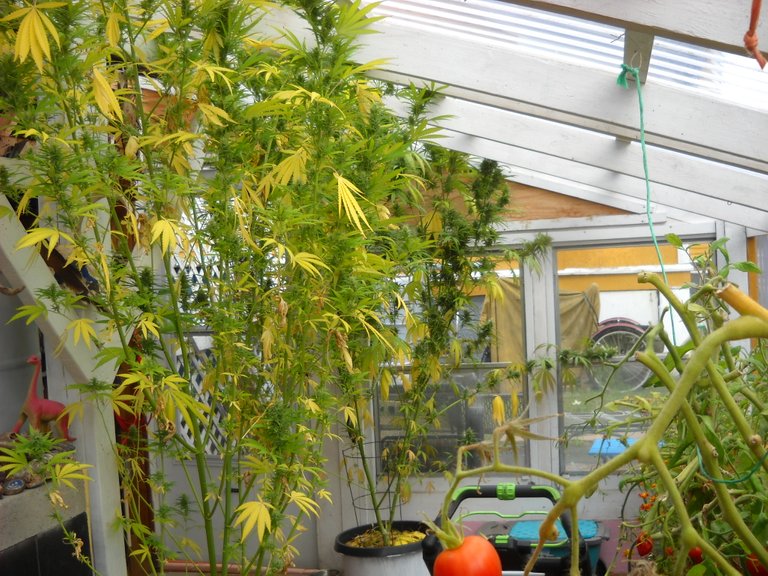 I'm going to let them grow for as long as I can before harvesting them. How long that ends up being depends on the weather. The greenhouse protects the plants pretty well as long as the night temperatures don't go much below freezing. When it starts getting into the high 20s F at night, I'll have to harvest the plants before the cold nights damage them.
That's all I have for this post, I hope you found it interesting!

---
---