Buy Cannabis Stonks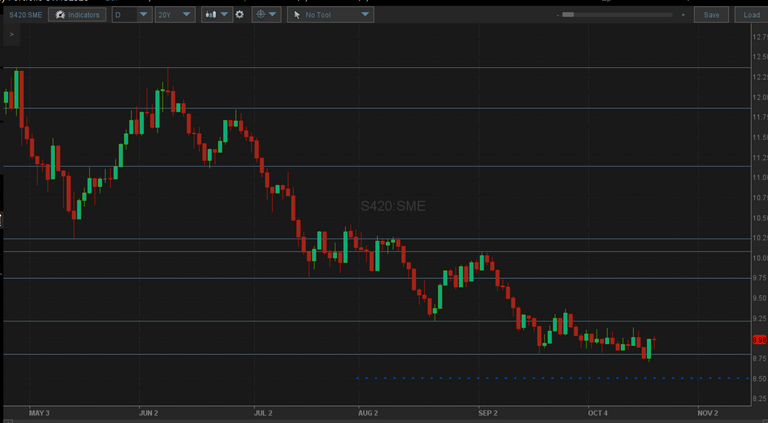 It is time to buy marijuana. This is a chart of the small exchanges, s420. The s420 is a cannabis future, that contains a bunch of marijuana stocks. You can also trade the etf, MJ. You can find MJ on Robinhood and most other places. You can only find the s420 on the small Exchange, and it is easily accessible via tasty works.
Okay so let's talk about marijuana. Look at that chart, just a simple risk reward suggests, Buy low sell high. We saw what happened to bitcoin and crypto recently. But we cannot get caught up in the hype just to forget that there are other risk assets. Marijuana is another asset that will attract people looking for risk, just like crypto had its admirers.
So, I don't know where you live. But I live in Los Angeles where marijuana shops are as frequent as finding a good bakery. There are two different types of marijuana shops in la, the corporate, and the mom and pop. The mom and pops are being muscled out by taxes and corporate initiatives. 40% tax is a lot, but people pay it. The mom and pops make the pricing easier on the customer. But the corporate shops, like mad Men, will sell the type of cannabis products that have connection to the stock market. Those products are taxed at 40%.
Considering that cannabis is so low going into the end of the year, for it to go any lower would suggest that the United States is going to completely ban cannabis. Why would they do that if they're making 40% taxes in just one state. What I think is that crypto got all the attention and it has its cult following. I'm fine with it being in the headlines, because it has allowed me to scale into cannabis.
So if you're looking for a good risk reward, take a look at cannabis.
Smallexchange.com
Tastyworks.com
Let me know what you're looking at. Leave a like if you like to like. Thank you!
Posted using Dapplr
---
---