4:22

Late in more ways than one, I'm finally ready to do an update on my grows...
Last year yielded decently but disappointingly, for the care and attention(work) I put in. I ended up with about 12 ounces.
It was the year for experimentation, however: I started with completely random seeds. From about 30 seedlings, I cultivated 12 females in 4Gal pots.
I did all sorts of mean things to those girls... bent them over, split them wide open, tortured them with scissors in front of their siblings. The the Flying Spaghetti Monster pissing rain on them all of May and June didn't help either.
My soil was also terrible.
Lessons learned.
Sort of.
Started with random seeds again. And about the same number.
This year I had good lighting and environment for them to start in. I used paper egg cartons with ProMix under a 1000 Watt full spectrum Led. Nearly all of them germinated.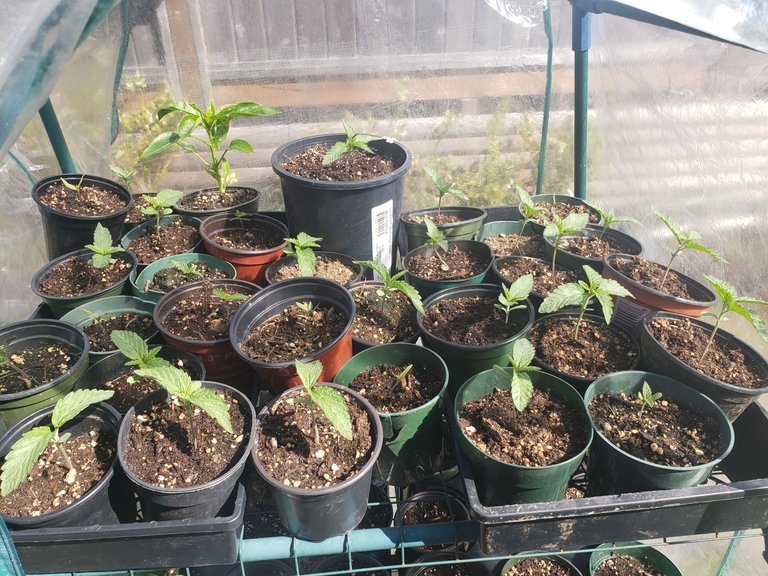 I've transplanted them to 4" pots and they now live in my outdoor greenhouse where they reside happily next to some Peppers and tomatoes. I've done a little pinching and bending so far but generally have left them alone. I'll be repotting them in the 4" pots again next week, and hopefully into 1 gallon pots in about 2 weeks. The soil I've prepared for their final homes is vastly superior to last year's. If I can weed out the males earlier and pick the 4 strongest females, I will have significantly decreased my workload while increasing my yield!
---
---