Best Places to Stake Bitcoin and Crypto Right Now!
As I Have Been Been Sharing my Favorite Investments on Top of Everything that Hive has to offer which is my favorite Investment, but My Additional Crypto Investments Include Holding and Staking Coins.
Dapp.com recently did a post about the best places to Stake your Bitcoin and Crypto and look at the results...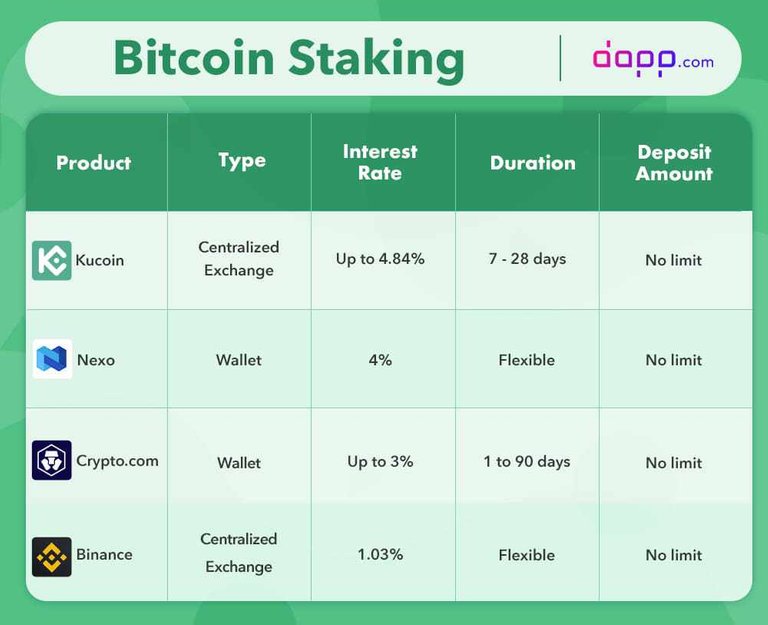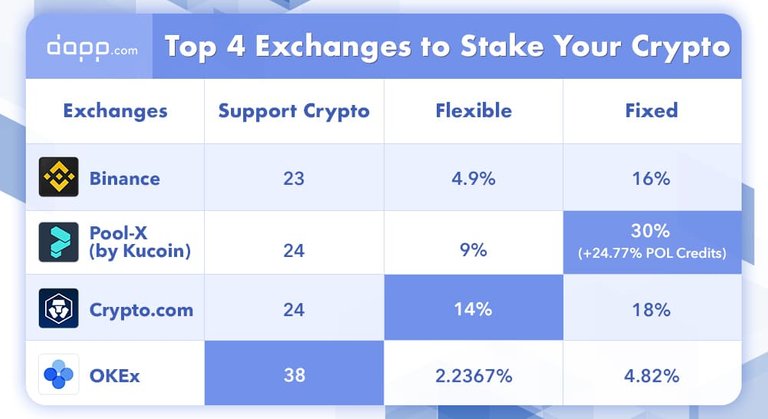 As I have been saying for a minute, I love KuCoin with its Pool-x, where I like to do most of my investing other than Hive. One of my top investments has just tripled in the price of the coin plus it gets over 40% earnings! Yes, 40% and the price of the coin went from $2 to over $6... that is just nuts! So again I highly recommend you check that out.
KuCoin & Pool-x REFERRAL:
https://www.kucoin.com/ucenter/signup?rcode=dtrtNP
Then my 2nd favorite place, and where I keep my Eth and BTC is on NEXO. It is the cleanest and easiest platform with many options to get a loan if you want or you can transfer immediately any coin as it only offers flexible holding and no set time, with also the highest-earning, paid out daily!!! What could be better?
Just go to Nexo as there are no referrals.
Finally, my actual biggest investment is in CRO with Crypto.com which has more than doubled since I have been doing it, and I earn 16% on it! That isn't on here but I wanted to share that again!
Crypto.com Referral:
https://platinum.crypto.com/r/7qa2ksapd4
Feel free to ask any questions as I use all of the ones that were tested in the infographics and can answer any questions about them if you have.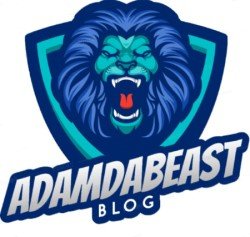 One Luv,
AdamDaBeast
Thanks For Visiting AdamDaBeast's Blog!
I Love That You Came to Visit! I Look Forward to Connecting With You & Talking Business, Finance, Crypto, Gaming, Life, and So Much More!
I Highly Recommend You Check out what I consider the best place to earn High Yield's that I have seen with over 50% earnings! It is also connected to my favorite exchange that houses hundreds of coins and new contests and giveaways everyday! It's Insane!
Check It Out Now: Join KuCoin & Pool-X Now With Best Referral Bonus!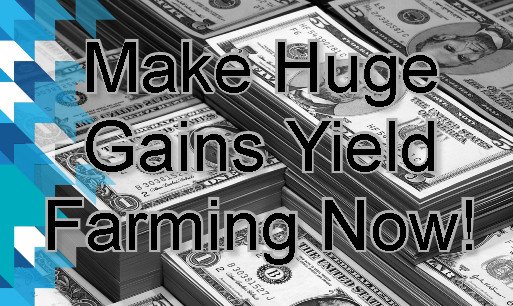 (https://www.kucoin.com/ucenter/signup?rcode=dtrtNP)
Join All The Amazing Action Over at Hive Today Using My Referral Link:
Join Hive Now!

Join All The Amazing Action at Splinterlands while earning Crypto and Prizes through my referral link to get the best offer & deal:
Join Splinterlands Now!

Posted Using LeoFinance
---
---